Golrokh Ghobadi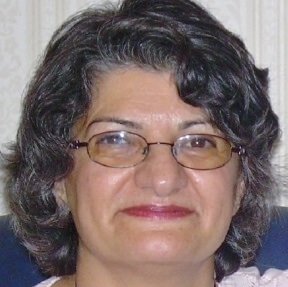 Golrokh Ghobadi was born in 1956 in the city of Sanandaj, the capital city of the Kurdistan region of Iran. She finished school there. In 1974 she began her clandestine political activitiy in Iran's Kurdistan with a Marxist circle which became known as Kumeleh during the Revolution of 1979. In order to advance her political agenda in Kurdistan, she took teaching jobs in the villages of that province. She participated in the 1979 revolution and was one of the founders of the Sanandaj Women Council. In 1980, she became the first female member of the Revolutionary Organization of Iranian Kurdistan Toilers (Kumeleh). After the Islamic Republic's armed forces attacked and invaded some of the major cities of Iranian Kurdistan in the summer of 1979, she became one of the first women to join the armed wing of the Kumeleh. In 1983, when the Communist Party of Iran was founded, she enjoined her ranks and after the first split in the party, she left both the Party and the Kumeleh. She left Iran in 1989 and took refuge in Sweden. From then on, she continued her activities in the women's movement. She has written several articles on women's struggles including A Look at Women's Struggles in Iran's Kurdistan (2010) and The Development of Feminism in Iran's Kurdistan (2012). She is one of the founders of The Conference of the Women of Iranian Kurdistan (Abroad) which has organized four such events between 2011 to 2014 in four different countries with the help of other women's rights activists.
She wrote her first book Poppies in Rocky Land in 2015, depicting the life and times of the Kurdish woman of Iranian Kurdistan. In 2020 she wrote the Poppy Fields narrating the untold stories of woman militants of Iran's Kurdistan, published by Noghteh Publishing. She is now working on her third book, also on the struggle of the Kurdish women of Iran, to be published by Noghteh Publishers.
Fattan Jokar
I am Fattan (Fatemeh) Jokar. I was born in Ghoochan, Khorasan Province. My family moved to Mashhad, Khorasan Province when I was one year old. I went to elementary and high schools and then graduated from College of Health in Mashhad. I was employed as a Heath teacher and started to work in a small town in the southern part of Khorasan in 1979.I married Saeed Jabani in 1980. We were both Mojahedin Khalgh Organization's sympathizers. When I was four month pregnant, they arrested both of us in January 1982. Saeed was hung on April 30th of the same year. My daughter was born on June 10, 1982. She was with me in prison for four years. In February of 1986 they released me from prison under the title of long-term leave. For about 15 years I had to report to the Judiciary Office of Mashhad every week. I was expelled from governmental work.In 2011, I left the country and resided in Turkey for two years. Then they sent me to Finland. It has been eight years since I have been living Espoo, Finland, writing my memoirs.
Dr. Mahnaz Matin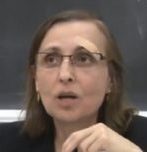 Mahnaz Matine is a medical doctor resident in Paris. She is active on women's rights issues started these activities in 1984 with the Democratic Committee of Iranian Women, which later became the Awakening Society. She is amongst the founders and members of the Editorial board of the Noghteh Publishers and journal, which started operating in 1995. Her writings on the women's movement of Iran have appeared in the Noghteh journal and other publications (such as Arash, Iran Nameh, Baran, and Ghahnameh) and Internet websites. She is one of the editors of the "Goriz Nagozir" (The Inescapable Escape), published in 2008, which consists of 30 narratives of escape from the Islamic Republic. Together with Nasser Mohajer, Mahnaz Matin researched and edited the two-volume "Khisesh Zanan Iran dar Esfand 57" (The Iranian Women Uprising, March 8th 1979).
Nasser Mohajer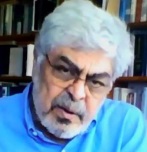 Nasser Mohajer is an independent scholar of modern Iranian history. He has authored many books and written numerous articles on contemporary Iran, including on the prison systems of both the Pahlavi dynasty and the Islamic Republic, women's movements for equal rights and histories of the Iranian left. He currently resides in Paris and works with Noghteh Resources on Iran.
Bagher Momeni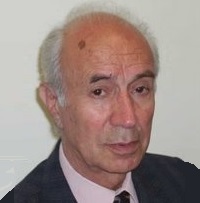 Nasser Rahimkhani

Nasser Rahimkhani was born in 1948 in Dezful, Khuzestan Province. He graduated from Pahlavi High School in Dezful in 1967 and was accepted to the Faculty of Law and Political Science at the University of Tehran the same year, where he came into contact with leftist ideas.
In his third year at the university, he was arrested as a member of "The Palestine Group" and was tried at a Military Tribunal. He was one of a group of 18 who was sentenced to seven years of imprisonment in 1970.
He was released from prison in 1977 and after a visit by to Evin jail by Amnesty International observers.
He joined the Organization of the Peoples Fada'i Guerillas and participated in the February Revolution of 1979.With the intensification of the repression in 1983, he and his family left Iran clandestinely and settled in France as political refugees. He has been residing in Stockholm, Sweden since 1991.
In exile he immersed himself in studying Iranian contemporary history and literature. His many articles have been published in an array of Persian language journals in exile including Arash, Baran and Noghteh.
His outstanding book Republicanism in Iran and its historical roots was published by BARAN, Sweden 2004. Since 2010, he has been a regular contributor to the publications of Noghteh Resources on Iran and his historical studies and researches have surfaced in a number of edited volumes including The Road not taken (2017) and Bagher Momeni: A political and Intellectual Life (2019).
Siavush Randjbar-Daemi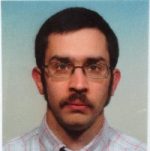 Siavush Randjbar-Daemi is Lecturer [Assistant Professor] in Iranian History at the University of Manchester, UK. His main research interests are the nature and evolution of the State and political movements and organisations in modern and contemporary Iran. His first monograph, The Quest for Authority in Iran: A History of the Presidency from Revolution to Rouhani is under press with I.B. Tauris. His latest article, "Down with the Monarchy: Iran's Republican Moment of August 1953," focuses on a little-studied element in the August 1953 turmoil in Iran, the attempts for the creation of a Republic which emerged in the final days of the Mossadegh government.
Mehrdad Vahabi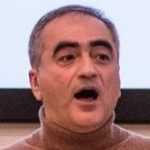 Mehrdad Vahabi is Associate Professor at the University of Paris VIII and associate member of Centre d'Economie de la Sorbonne (CES). His interests include political economy, economics of conflict, institutional economics, post-socialist transition and comparative economics. He is the author of The Political Economy of Destructive Power (2004) and has published in many peer journals including Public Choice, the Cambridge Journal of Economics, the American Journal of Economics and Sociology, Bulletin of Economic Research, Comparative Studies of South Asia, Africa, and the Middle East, the Canadian Journal of Development Studies, Louvain Economic Review and Revue d'économie politique.
Kaveh Yazdani

Kaveh Yazdani was born in Tehran and raised in Paris and Berlin. He received his Ph.D. degree at the University of Osnabrück in 2014 (summa cum laude). Yazdani was Visiting Residential Fellow at the Warwick Institute of Advanced Study in 2017. Shortly after, he accepted a faculty position at the University of Bielefeld. There, he taught courses in economic and social history between 2017 and 2020 before joining the University of Connecticut in 2021. His publications includes a monograph titled India, Modernity and the Great Divergence: Mysore and Gujarat (17th to 19th Century), Leiden/Boston: Brill 2017 and an edited volume (together with Dilip Menon) titled Capitalisms: Towards a Global History, Oxford University Press: Delhi 2020. He has authored many articles amongst them, Reading Marx in the Divergence Debate, co-authored with Nasser Mohajer, published in What is left of Marxism , De Gruyter, Berlin, 2020