Recently Published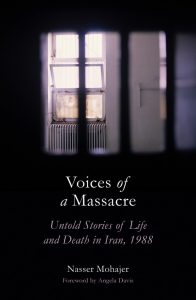 VOICES OF A MASSACRE
Untold Stories of Life And Death in Iran
NASSER MOHAJER
Foreword by Angela Davis
Eyewitness accounts reveal how the Iranian state secretly executed thousands of political prisoners in the summer of 1988


ABOUT THE AUTHOR
Nasser Mohajer is an independent scholar of modern Iranian history. He has authored many books and written numerous articles on contemporary Iran, including on the prison systems of both the Pahlavi dynasty and the Islamic Republic, women's movements for equal rights and histories of the Iranian left. He currently resides in Paris and works with Noghteh Resources on Iran.
RECENT REVIEWS
– Literature of captivity | The Book of Prison Interview with Nasser Mohajer | Interview by Ardeshir Mehrdad
– World Literature Today | Autumn 2020 Book Reviews | Voices of a Massacre & Lives Lost: In Search of a New Tomorrow
– Center for Human Rights in Iran | Book Review: Nasser Mohajer, Voices of a Massacre: Untold Stories of Life and Death in Iran, 1988
– The Iranians | Books, History, Human Rights, November 2020 | 1988
---
Welcome to Noghteh Resources on Iran
Noghteh Resources on Iran was founded in the spring of 1995. The founding members were intellectuals who had left Iran soon after the all out repression that swept Iran in 1982, residing in the US and Europe. The objective was to nourish the Iranian emigrants and political refugees as to the artistic, intellectual, cultural and political endeavors undertaken by their compatriots as well as renowned Iranologists teaching in universities and institutions of higher education, world over.
Due to the rising demand for setting up a solid platform to cover certain defining moments of Iran's modern history in English language, Noghteh Resources on Iran has decided to take a new turn in its educative endeavors and undertake new fields of study such as religious, gender and ethnic persecutions in the Near East. In so doing, we aim to provide information and analysis for concerned people about different features of past and present processes pertaining to history in the making.
It is our firm belief that a profound engagement with Iranian history, polity, culture and sub-cultures, gender relations, trends of thought and life styles in both Persian and English language helps Iranians towards a better integration in their new home, the foundation of which epitomizes and entails the principles of freedom, liberty, altruism, hard work, human dignity and diversity.