Nasser Mohajer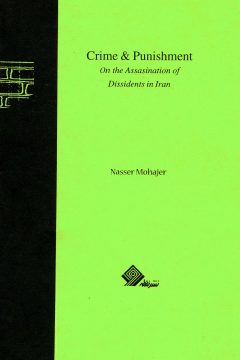 Crime & Punishment (On the Assassination of Dissidents in Iran)
This book comprises two essays and one interview. The interview and one of the essays describe in great details how Parvaneh Eskandari, Daryoush Foruhar, Majid Sharif, Mohammad Mokhtari and Mohanmad Jafar Pooyandeh were butchered and murdered based on a detailed and careful examination of accessible evidence .
The other essay is an investigative inquiry into the circumstances and context of Hojjat-Al-Islam Khatami's rise to power – during whose terms these serial assassinations occurred.
In this inquiry, the general political tendencies and domestic policies of the Reformist government of Mohammad Reza Khatami is analyzed and scrutinized.