Compiled & edited by Mahnaz Matine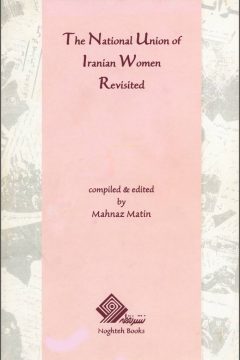 The National Union of Iranian Women (Revisited)
The theme of this book is about the formation and activities of the National Union of Iranian Women, which was founded a few weeks after the 1979 February Revolution of Iran. Most of the founders of NUIW were left-leaning women educated in North America and Western Europe and active in the struggle against the Shah's dictatorial regime. The NUIW was dissolved after the onslaught of the Islamic Republic on all democratic forces of the country in June 1981.
A detailed report written soon after the dissolution of NUIW by a few of its founding members and expounded by some others, give this book a historical value. The memoirs of several other members and activists of NUIW who responded to the questions and queries of Mahnaz Matine, complement the detailed report. Matine's comprehensive preface contextualizes the endeavors as well as the negligence of NUIW in the face of a Muslim fundamentalist theocracy determined to marginalize Iranian women and push them back to pre-modern times. The documents she has meticulously collected and incorporated in the last chapter of the book sheds light on the rise and fall of the most militant and avant-garde women's organization of post-revolutionary Iran.